Lifetime Gift from an IRA
Charitable Rollover Extension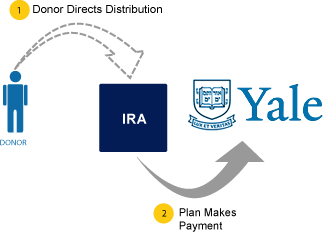 How it works
| | |
| --- | --- |
| | You request that your IRA plan administrator make a distribution of up to $100,000 directly to Yale. |
| | You direct how Yale uses your contribution. |
| | Just contact us and we'll be happy to give you more information about this new charitable incentive. |
Benefits
You can use an overlooked, "frozen" asset to make a gift to Yale.
You never recognize the distribution as income.
The distribution counts towards your minimum required distribution for the year.
Remember...
You must be at least age 70½ at the time of distribution.
You can only transfer $100,000 per year, and only in 2008 and 2009.
Funds must come from an IRA.
Distributions cannot go to donor advised funds.
State income tax may be due on the distribution.
For more information
Email us, complete the personal illustration form, or call us at 1 (800) 445-6086 so that we can assist you through every step of the process.